Looking to stay in Singapore for long-term to be with family, have access to world-renowned healthcare, for better work opportunities or to further your studies? Then, applying for a Singapore PR may be the best option for you.
The journey to obtain Singapore permanent residence can be a long and arduous road, especially when you are walking it for the first time in unfamiliar waters. A successful PR application is a difficult goal to attain due to the strict approval criteria. On top of this, there is also more than one Singapore PR scheme that you can use to apply, and it is often difficult to figure out which Singapore PR scheme is the best one for your individual needs.
But before you proceed, it is important to know your eligibility as well as how you can apply for Singapore PR.
Read on to find out the five ways (Singapore PR Schemes) one can apply for a Singapore PR.
Professional, Technical Personnel and Skilled Workers Scheme (PTS scheme)
The Professional Technical and Skilled (PTS) Worker Scheme is designed to let Employment Pass, EntrePass, PEP, and S Pass holders apply for Singapore PR while allowing the inclusion of dependants in the application. This means applicants can bring their spouse and unmarried children who are younger than 21 over to Singapore to live with them. While children over 21-years old and parents or parents-in-law are not considered dependents, they can still apply for a Long Term Visit Pass, which is valid for up to 5 years and renewable so families can still stay together. This is by far the most popular Singapore PR scheme. Your educational qualifications will be important for this Singapore permanent resident application, and it is best suited to foreign professionals who have an Employment pass.
You have to be under 50 years old for the technical personnel scheme, hold either one of the passes mentioned above, and possess qualifications from reputable institutions to be eligible to apply for Singapore PR under the PTS scheme.
If you have any doubts about the scheme and would like to find out more, consider consulting a PR application agency in Singapore that will provide you with advice and assistance.
Global Investor Programme
The Global Investor Programme (GIP) is catered to foreign investors who want to steer investment and business growth from Singapore. Applying for Singapore PR under GIP requires the candidate to possess a considerable track record in business and successful entrepreneurial background, along with criteria such as running a company with an annual turnover of at least S$200 million. The nitty-gritty details regarding the criteria are dependent on your profile, whether you are an established business owner, next-generation business owner and more. Under GIP, your spouse and unmarried children who are below 21 years old are also eligible for Singapore PR.
The assessment criteria for GIP (Singapore foreign investor programme) are broken down into three options:
A –
Invest a minimum of SGD 2.5 million
The investment must be made in a new business, and/or;
expanding an existing business operation or in
B –
Make a minimum of SGD 2.5 million
The investment must be made in a GIP fund that is known to further invest in Singapore-based businesses
C –
Invest a minimum of SGD 2.5 million in an existing or;
new Single-Family office with assets of at least SGD 200 million, based in Singapore
On top of these, there is also a requirement concerning a good business track record and a business proposal and investment plan that needs to be adhered to and met over the following few years. All of these things make the investment scheme extremely difficult to be granted Singapore PR this way.
This Singapore PR application does not go through the ICA but rather the Singapore Economic Development Board.
Applying for Singapore PR under GIP is a long and tedious process with many requirements to fulfil and documents needed, but consulting a PR application agency in Singapore may just help to make the process easier.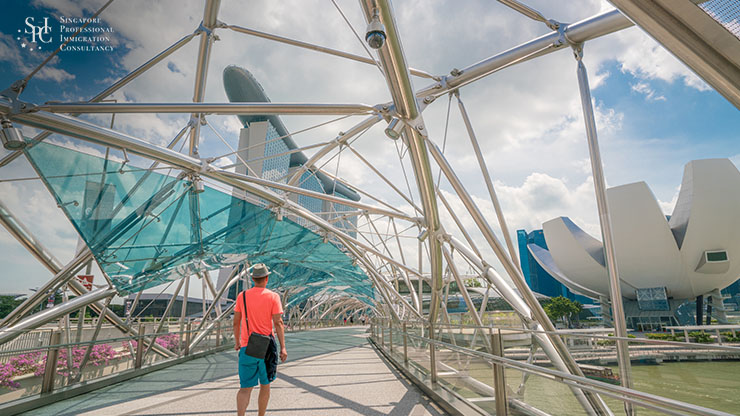 Foreign Artistic Talent Scheme
The Foreign Artistic Talent Scheme (ForArts) has been around since 1991. The scheme aims to recognise the contribution and cultural significance of these talents in advancing Singapore's arts landscape. It is reserved for outstanding international arts professionals to secure a Singapore PR over the years. However, it is worthy to note that although this scheme is managed by the National Arts Council and Singapore Immigration and Checkpoints Authority, ICA still has the final say in your PR application.
To qualify for this scheme,
you must have relevant training or education,
made significant contributions to Singapore's arts sphere,
have considerable achievements in Media and/or Design, Literary Arts, Visual Arts, or Performing Arts,
and be able to show how you will be involved in Singapore's arts and cultural sector.
For more information on the supporting documents that you need, contact us today. We can improve your chances of having your PR application approved no matter what scheme you apply under.
Sponsorship Scheme
One of the most common ways to apply for PR in Singapore is via sponsorship if you are legally married to or are an unmarried child aged 21-years or under of a Singapore citizen or PR or a PR aged parent. Some factors that can impact your application include family ties, family profile, the extent of your social integration, professional achievements, and economic contributions. Both the sponsor and the candidate's profile and application will be assessed, and documents required typically include the marriage certificate and birth certificate of the couple's children. Some people attempt to enter into sham marriages to obtain Singapore permanent residence this way, but it is a bad idea to attempt this. Only use this scheme if you are in a legal marriage.
Writing a strong cover letter is often one of the most vital aspects of a PR application, and consulting a PR application agency in Singapore may prove to be useful, especially if you are unsure of what you need to include.
Foreign Students Scheme
International students (S Pass student visa holders) can apply to be a Singapore PR, too, as long as they have met the requirements. You must have passed a least one national exam (PSLE, 'O' Level, 'A' Level) and resided in Singapore for at least two years at the point of your application. Your application will be assessed based on your own merits, so go ahead and state all your academic achievements and provide all relevant documents. Proof of your leadership roles and assimilation into Singapore's society may help to boost your chances too. Contact us to find out more about the required documents for this application.
National Service Requirement
Adults who obtain their Singapore permanent residence are not required to serve as National Servicemen, but all second-generation male Singapore PR status holders and male Singapore citizens under the age of 18-years are required to register for National Service, after which they will serve Operationally Ready National Service. This is an important consideration that many parents must make should they wish to apply for permanent residence for themselves and their family members.
Singapore Permanent Residence Application
A foreign national or foreign student who wants to stay in Singapore for the indefinite future will need to apply for Singapore permanent residency. The permanent residence application process can be long and tedious for most people, and it becomes exceedingly difficult to be granted PR status as time passes.
Perhaps the most daunting part of the process is getting all the required documents together and then submitting all the documents in the correct order. Aside from that, the Singapore PR application form itself can also be difficult to navigate. It is therefore advisable to try and consult with a Singapore permanent residency agency for assistance with your Singapore PR application.
The Singapore PR application form is completed online, and it is important to gather all the necessary documents before you start the PR application process. This is because once you start completing the permanent residence application form, you only have seven days to finish it before it is automatically submitted. And an incomplete Singapore permanent resident (PR) application can set the process back by months.
Here at SPIC we can also assist with applications for Singapore citizenship. Many current Singapore permanent residents have made use of professional services to enhance their chances of being granted permanent resident status. The PR application online application platform can be unfamiliar to some applicants, and this can lead to mistakes. Furthermore, previously Singapore citizens' and those applying for PR in Singapore had the opportunity to converse with ICA agents via an interview, but that is no longer the case for these applications. Now when you apply for permanent residence, the only glimpse at your personality that the agents now get is the cover letter and your actual online Singapore permanent resident application form.
Can I become a Singapore Citizen without having PR status?
At this time, you must be a permanent resident before you can apply for Singapore citizenship. When it comes to children, the ICA is only considering children born within the context of a legal marriage or who have been legally adopted.
It should be noted that when you apply for Singapore permanent residency for yourself and your family, you should consider it very carefully. Should male children absolve their residency before they complete their NS, it will negatively impact your immediate or future applications as well as the rest of the family. There is also a risk of losing one's PR status/entry permit.
Consult a PR application agency in Singapore
While you can always apply for a Singapore PR under one of these schemes on your own, it can also be discouraging if your application gets rejected.
Hence, a PR application agency in Singapore aims to reduce the occurrences of rejection by advising you on how you can improve your application before submitting it and can even guide you through the next steps if your application happens to be rejected.
Get in touch with us here at Singapore Professional Immigration Consultancy, an immigration agency in Singapore, for more information and a free consultation.