Making the decision to apply to become a permanent resident (PR) in Singapore is a big deal as this essentially gives you access to benefits such as housing loans, CPF funds, and travel freedom – all of which you do not get as a work pass holder.
While there is no guarantee that you will be able to secure a successful PR application the very first time you try, there are some things to take note of that will help to ensure your application will be considered in the first place.
Here are five things to avoid doing in your Singapore PR application when you apply online; read on to find out more.
Not including a cover letter
Writing a cover letter when applying to be a permanent resident is as important as writing one when applying for a job. A cover letter will help to boost your application as it showcases your enthusiasm about contributing to Singapore, highlights your capabilities and helps you to stand out amongst thousands of applicants.
You will need to include a header, state your reasons for applying for Singapore PR, include your background, qualifications and accomplishments, mention any charitable works you have done, and end off with a conclusion to bring everything together.
Read our article for some tips on how to write a strong cover letter.
Making errors in your application or writing
Giving inaccurate information, incorrect particulars and providing incomplete details in your Singapore PR application can all affect your chances. As the process from submitting your application to having an ICA officer look through your application and assess your suitability can be a long and tedious process, making any errors will only delay the outcome and can even negatively impact the end result.
Hence, to ensure that you stand a better chance of securing a Singapore PR, make sure you read through your entire application a few times to pick up on any errors before submitting it.
Not including all the documents required
It is compulsory to submit supporting documents together with your Singapore PR application as ICA requires them not just to assess your ability to contribute to Singapore and integrate into our society but to also ensure that you are eligible to be a permanent resident.
ICA's website states all the documents you will need to provide, and they include photographs, birth certificates, marriage certificates, payslips, educational certificates and many more.
Go through the entire list one by one so that you do not miss out on any of the important documents, and check twice or even thrice before submitting your application.
Not providing translated documents
While preparing documents for your Singapore PR application, note that it is necessary to submit translated versions of them if they are not in English.
ICA only accepts translations provided by:
The embassy of the country that issued the document
A notary public (qualified lawyers) in Singapore or the country that issued the document
Privately created translations recognised by the embassy of the country that issued the document, or a notary public in Singapore or the country that issued the document
Giving generic reasons to support your application
Try not to rush the process when it comes to applying for Singapore PR, as this may result in your giving generic reasons or answers in your application that will not do you any good. We recommend thinking it through and gathering your thoughts so that you can come up with a strong answer that will help to spotlight your strengths.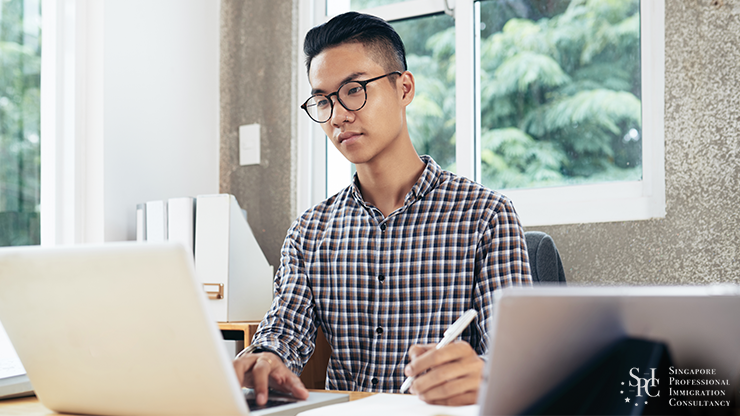 Further Things to Avoid in your Singapore PR Application
Many applicants, when they apply for permanent residence (PR), will get stuck on one or two elements of the application and neglect the others. Often this revolves around elements of their Employment pass; for example, their educational qualifications and work experience are overemphasised, but their social integration, local engagements, and significant contributions to the local community are neglected, or vice versa.
People also tend to forget to mention their family ties in Singapore, such as a legal marriage to a Singapore citizen or Singapore PR other having other family members in the city. Furthermore, there can actually also be problems that arise from familial connections to Singapore. If you have a family member with PR status who has caused trouble, then it could hurt your application.
Considerations that should accompany a PR Application
National Service Obligations
In your journey to obtain Singapore permanent residence, you should carefully consider whether you mean to apply only for yourself or whether your children will be included as well. You should also consider whether having children in Singapore is the desired outcome for you in light of this obligation.
All male children who are under the age of 18-years when they obtain Singapore PR status, as well as male Singapore citizens, are obligated to the responsibility of completing Full-Time NS for a two-year period once they turn 18. This National Service obligation is enforced by the Enlistment Act and is something that Singapore authorities take very seriously. Should a male child absolve their PR or Singapore citizenship before their NS has been completed, it will have a universally negative impact on all other family members in Singapore as well. Including any immediate or future applications for Singapore permanent residence. Sometimes being a PR in Singapore is not for the whole family.
Which Scheme you will apply through
There are three major schemes through which many Singapore PR applications are made, although it should be noted that these are not the only options.
Firstly there is the Professional, Technical Personnel and Skilled Workers scheme (PTS Scheme), which is the most popular scheme. It is reserved for foreign professionals and calls for a strong track record with your career and career prospects within Singapore.
The second is the GIP Scheme (Global Investor Programme) which is reserved for the extremely rich Singapore foreign investor. It refers either to foreign investors who want to make a contribution to an existing business operation or start a new business venture in Singapore. The investment scheme has specific monetary expectations, which are discussed in detail in other blogs specific to the schemes available through which to be granted PR status. It should be noted that the investment plan should only include investments made to any GIP approved fund. This is a notoriously difficult scheme through which to be granted Singapore PR and is not handled by the ICA but rather by the Singapore Economic Development Board.
The last scheme that we will briefly discuss here is the Foreign Artistic Talent Scheme which aims to add specifically to Singapore's arts and cultural sector. This scheme is important to Singapore because their cultural scene is extremely important to them. It is reserved for those who have significant track records within the artistic community.
Singapore permanent resident eligibility will also slightly differ depending on which of these Singapore PR applications you choose to journey through.
Consulting with a Professional Singapore PR Application Agency
Previously Singapore citizens and PRs had a much easier time getting their applications granted. These days it is much harder for PR applications to be successful, and losing one's PR status is much more prevalent if the correct steps are not followed after the fact. Consulting with an agency can be great for your possibility of success as we can help guide you to ensure sufficient time for the timely completion of the PR application process. Experienced consultants can offer support and guidance throughout the Singapore permanent resident status application process or simply your Employment pass or entry permit application.
Are you unsure what rights your legally adopted unmarried children have? What about your unmarried child aged 21-years or above? And what about my PR aged parent?
Get help from a PR consultancy
If you are still feeling unsure, you can always seek help from us, a PR consultancy in Singapore.
Here at Singapore Professional Immigration Consultancy, our consultants are committed to helping you enhance your PR application to the best of their ability. Reach out to us to get a free consultation today!