Part I: Introduction
According to statistics, immigration to Singapore has accounted for more than 40% of the total population within the country in 2019. But what makes the little red dot so attractive for foreigners to settle down in?
Renowned for being a melting pot of culture and nationalities, Singapore is a thriving city-state in Southeast Asia. Aside from being an important financial hub with one of the strongest economies in the region, Singapore also boasts an efficient healthcare system and a stable political environment. Not only do these factors make the city-state more attractive for foreign investments, but people from other countries have also made the move to Singapore to seek out better opportunities.
Part II: Applying to be a Singapore Permanent Resident
Most foreigners who have lived and worked in Singapore for a period of time apply to become a Permanent Resident (PR). Unlike being a work-pass holder, having a PR status gets you as close to being a Singapore citizen as possible: You enjoy similar rights and benefits such as healthcare subsidies and access to housing loans.
Becoming a PR in Singapore allows you to leave and enter the country freely without having to apply for a separate visa each time, be given second priority to register your children in local schools, become a Central Provident Fund (CPF) member, and have access to a retirement sum, and more. Ultimately, all of these benefits aim to create more career opportunities and freedom as you integrate into the Singaporean way of life!
2.1 Who can apply to become a PR
As there are multiple PR schemes available in Singapore, it is recommended to identify your eligibility before applying for Permanent Resident status in Singapore.
You are eligible to apply for PR if you are a/an: 
Employment Pass, S Pass, or Entrepreneur Pass (EntrePass) Holder 

Spouse of a Singapore citizen, or Singapore Permanent Resident

Aged parent of a Singapore Citizen

Student studying in Singapore

Foreign Investor in Singapore 

Unmarried child below 21 years of age born within the context of a legal marriage to, or have been legally adopted by a Singapore citizen or PR
The schemes available for Singapore Permanent Residents 
There are three schemes a foreign national can apply for to become a Singapore PR:
1.  Professional, Technical Personnel and Skilled Workers (PTS) scheme
Any foreigner who has been working in Singapore with an Employment Pass, Personal Employment Pass, EntrePass, or S Pass to become a PR in Singapore is eligible to apply under this scheme. 
Aside from fulfilling the eligibility requirements, there are other factors the Immigration and Checkpoints Authority (ICA) looks at to evaluate your Singapore PR application before granting approval. Some of these main factors include your age, educational qualifications, skill sets you possess, the duration of your stay in Singapore, economic, and social contributions to the country. Furthermore, the ICA also looks at the job industry that you work in. For instance, you may have a higher chance of getting approval if you work in a niche industry that requires personnel with special skill sets. 
To qualify under the PTS scheme, you have to be working in Singapore for at least 12 months and are below 50 years of age. In addition to the criteria above, ICA also takes into account such as the individual's family ties to Singaporeans, the ease in which they can integrate into our society, as well as his/her commitment to put down roots.
2. Global Investor Program scheme (GIP scheme)
As part of a joint initiative launched by the Singapore Economic Development Board (EDB) and Ministry of Manpower (MOM), the Global Investor Program scheme (GIP) is for foreign individuals and entrepreneurs looking to invest or start a new business in Singapore. By launching this scheme, it provides these individuals ease and opportunity to set up their business, whilst allowing their spouses and children to apply for Singapore PR.
An investor can submit a GIP application if he/she meets any one of the following criteria as proof of your entrepreneurial track records:
1.Highly Established Business Owners
Have 3 years of excellent entrepreneurial track record;

You are currently operating a company with 200 million SGD revenue per year, and at least S$200 million per annum on average for the three years immediately preceding your application; 

Own at least 30% shares in the company (if the company is private held);

The company must engaged in at least of the industries listed in the approved business industries*;
2. The 2nd Generation Business Owners
Your immediate family should have a minimum of 30% shareholding or be the largest shareholder in the company;

The operating company must have at least 500 million SGD revenue per year, and at least S$500 million per annum on average for the three years immediately preceding your application;

You have to be in the management team of the company (C-suite);

The company must engaged in at least of the industries listed in the approved business industries*;
3. Founders of High-Growth company
You have to be the founder and the larger individual shareholders of the company with a valuation of 500 million SGD

Your company must be invested into by reputable Venture Capital /Private Equity firms; AND;

The company must engaged in at least of the industries listed in the approved business industries*;
4. Family office principals
You must have more than 5 years of entrepreneurial, investment or management experience

You must have an investable assets of over 200 millions SGD
List of approved business industries
Aerospace Engineering, Alternative Energy/ Clean Technology, Automotive, Chemicals, Consumer Business (e.g. flavors and fragrances, food ingredients, nutrition, home and personal care), Electronics, Energy, Engineering Services,Healthcare, Infocomm Products & Services, Logistics & Supply Chain Management, Marine & Offshore Engineering, Media & Entertainment, Medical Technology, Nanotechnology, Natural Resources (e.g. metals, mining, agri-commodities), Safety & Security, Space, Shipping, Pharmaceuticals & Biotechnology, Precision Engineering, Professional Services e.g. consulting, design, Arts Businesses – Visual arts businesses, e.g. auction houses, art logistics/storage – Performing arts businesses, Sports Businesses, Family Office & Financial Services
Upon meeting the requirements, the applicant can choose from among two GIP investment options: 
Invest at least S$2.5 million in a new business entity or expand an existing business in Singapore

Invest at least S$2.5 million in a GIP-approved fund for Singapore-based companies

 Invest at least 2.5 million SGD in a new or existing Singapore-based family office that has an Assets-Under-Management (AUM) of 200 million SGD

.
No matter the option chosen by the applicant, he/she will need to submit a detailed five-year business or investment plan in both hard and soft copy, as well as fulfill the milestones that were outlined in their proposal. 
4. Foreign Artistic Talent Scheme
Introduced in 1991 to recognise the cultural significance and contribution of foreign talents, the Foreign Artistic Talent Scheme enables outstanding international art professionals to become Singapore PR. Through this implementation, Singapore hopes to advance the arts and cultural landscape and expand the diversity of expertise in the local community.
These are the minimum criteria for applicants to be eligible for this scheme:
Possess relevant training/education in their field of practice

Possess relevant professional experience, with outstanding achievements in the field of Performing Arts, Visual Arts, Literary Arts, Design and/or Media

Have made significant contributions to the arts and cultural scene of Singapore, with a strong track record of local engagements at a leadership level

Have concrete plans to be involved in the future of Singapore's arts and cultural sectors
2.2 PTS Scheme VS GIP Scheme:
In the past, it was easier for foreigners to apply for a Permanent Resident status in Singapore. However, as a result of the stricter regulations in recent years, it has become harder for PR applications to be approved.
Foreigners can choose between the PTS scheme and GIP to apply for Singapore PR, however the former is known to be a more popular choice. Here, we break down the pros and cons of applying under each scheme:
1. Eligibility Requirements
Under the PTS scheme, anyone holding onto an Employment Pass, S Pass, or Entrepreneur Pass can easily attain the PR status as compared to the GIP. Even though it is easier to gauge the GIP criteria, it is only catered to foreigners who have the financial capacity for investments.
Furthermore, the GIP scheme is only eligible for applicants whose company or business is engaged in certain niche industries like Nanotechnology, Shipping, Engineering Services, etc. On the other hand, the PTS scheme does not single out any particular industry, making the barriers to entry lower.
2. Approval time
A Singapore PR application under the PTS scheme takes between four to six months to be processed, and up to 12 months or more for more complex cases. The GIP scheme, on the other hand, has a 6-9 months waiting period. Despite the shorter waiting period, the GIP requires the applicants to prepare for more interviews as well as the consolidation of business proposals and financial statements for approval.
3. Re-entry permit renewal 
All Singapore Permanent Residents require a valid Re-entry permit (REP) when travelling out of Singapore. This allows them to retain their PR status whilst being away from Singapore. The renewal for REP is subjected to certain conditions for PRs who have applied via the GIP scheme, thus making the PTS scheme a better and more convenient one for foreigners. 
2.3 How do I apply to become a Singapore PR
Applying to be a Singapore PR requires more than just preparing the necessary documents and submitting your application online. Aside from meeting all the eligibility criteria, the Immigration Checkpoints Authority also requires evidence that you are contributing economically and are integrated into the society to get your Singapore PR application approved. 
While you can always submit your Singapore PR application online, engaging in a professional PR agency in Singapore can significantly increase your chances of getting approval.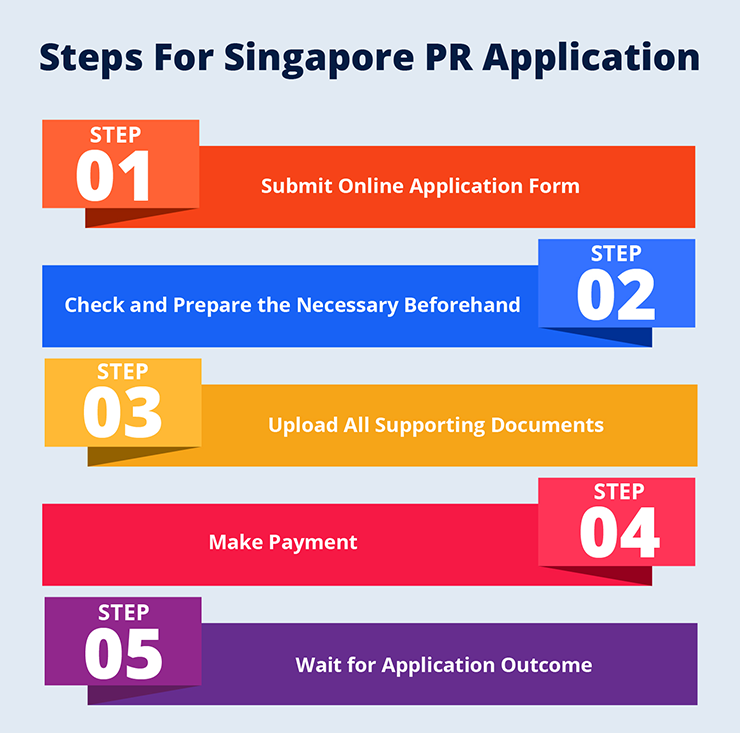 1. Submit online application form
Through the Electronic PR portal (e-PR), you can select the relevant options in the online questionnaire to retrieve the forms that you are required to submit. You should download these forms and fill them up offline before returning to the online portal for submission. Upon completion of the online form, you will be required to upload the necessary supporting documents to the online portal.
2. Check and prepare the required documents
As you will only have seven days to complete the e-PR application, It is important to get all the necessary paperwork beforehand to ensure that you do not waste any time. All applicants are required to submit documents that are unique to them in their PR application such as education certificates, financial statements, and cover letter. While information on the basic documents (Passport, National ID, Birth Certificate, and valid Singapore passes) needed for the application is available on ICA's website, there are some supplementary documents you may be unaware of that could boost your chances for approval. 
In addition, as you are submitting your PR application online, it is advised to scan all your documents in high resolution to ensure that they are clear and legible. 
As the ICA vets all applications in the English Language, submitted documents that are not translated to English have a higher chance of getting rejected. As of October 2019, all translation done in Singapore has to be approved by the Singapore Academy of Law (SAL).  
Aside from having the necessary documents, you are also required to organise them in the proper order. Since there are many documents required by the ICA, it can sometimes be challenging for applicants to collate and organise them. Fret not if you are still unsure of the documents required or if you need translation for your non-English documents, as you can engage in the services of a PR application agency like Singapore Professional Immigration Consultancy (SPIC) to boost your approval chances.
3. Upload supporting documents
Having additional documents like a cover letter and letters of recommendation from your employers helps in improving your chances of getting your PR application approved. When written professionally, these documents help in displaying your best qualities and contributions to society. However, writing a good cover letter in your favour may take up a lot of time since it requires much planning. By engaging in the services of a PR application agency, you will receive expert guidance on what to write, or even have our immigration consultant write a cover letter that highlights your strengths and professional qualifications to increase your chances of approval. 
The PR online application process may sometimes result in applicants feeling anxious about completing it accurately. Thus, if you are ever in doubt during your PR online application process, you can always hire a professional PR consultant to vet your application to ensure that all is in order before submission. 
After submitting your necessary documents, you are required to make payment for your application.
4. Wait for application outcome
Generally, it will take approximately 4 to 6 months to receive an outcome for your application from the ICA, while complicated cases or unforeseen circumstances may drag your application results for up to 12 months and more. You will be informed of your application result via post. However, you can check the status of your application using the online portal should you not receive the results after 12 months. Alternatively, you can always contact ICA with the reference number of your application to find out more.
It is important to note that complex applications require a longer processing time, and ICA may sometimes need more time to review and verify the documents submitted.
5. What comes next after approval?
Congratulations on receiving your approval letter from the ICA!.
After getting your application approved, you are required to head down to the ICA office within two months of the indicated date in the letter. It is recommended to book your appointment via the website; as appointment slots are often filled up quickly, you will usually be able to book an appointment scheduled 10 working days later.
Aside from going for the medical check-up stated in the approval letter, you will also need to physically bring the documents stated to the scheduled appointment. The mandatory documents include: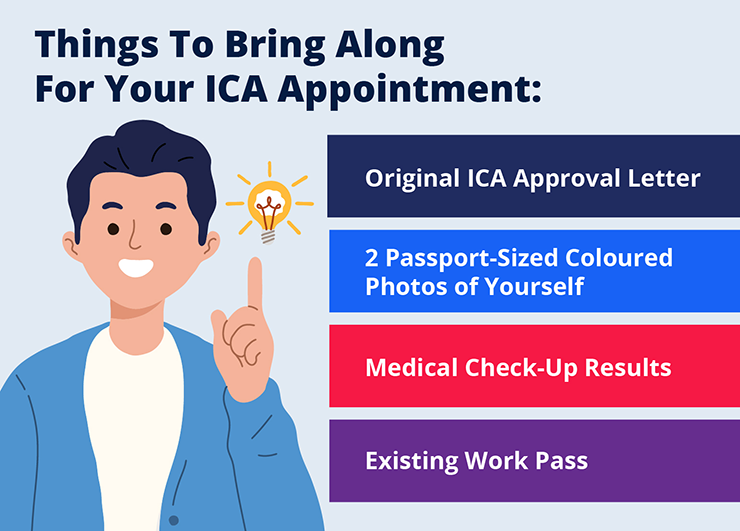 Original ICA approval letter

Two passport-sized coloured photos which will be used in your Identity Card

Results of medical check-up 

Existing work-pass to be surrendered in exchange for your newly-issued National Registration Identity Card (NRIC) – the NRIC is usually collected at a later date.
In addition, you are required to pay S$50 for your NRIC registration fee during your appointment.
As the PR status is only valid for five years, you will have to apply for a re-entry permit (REP) before it expires. Should your re-entry permit expire while you are away from Singapore, your PR status will automatically be revoked. All REP can be done online via the electronic Re-Entry Permit system (e-REP) on ICA's website.
Part III: Applying For Singapore Citizenship
While being a PR in Singapore comes with many benefits, becoming a Singapore citizen gives you full rights and privileges for living, working, and education within the country. 
Aside from travelling freely across the world with the Singapore passport, citizens are also eligible to purchase new Housing Development Board (HDB) flats and are entitled to more grants as well as housing loans. Furthermore, the children of Singapore citizens have priority over PRs and foreigners when it comes to enrolling into a school of your choice, all while being able to enjoy government subsidies for school fees.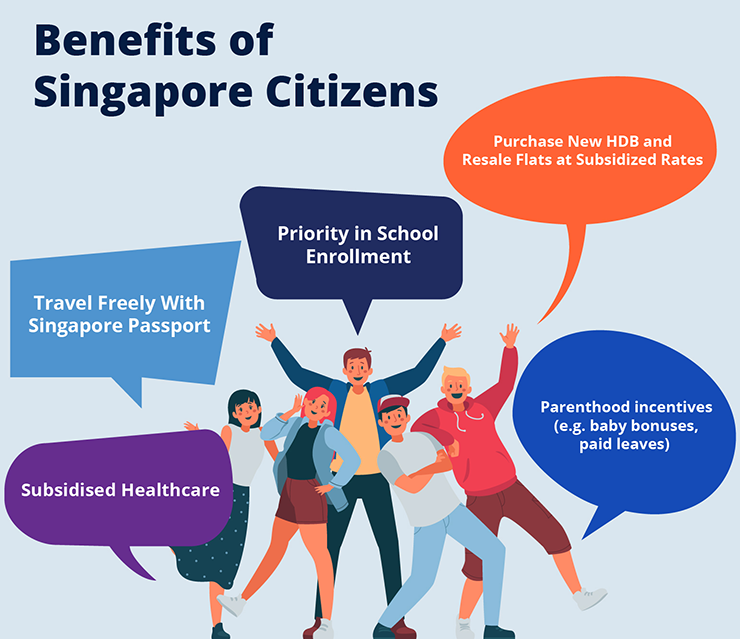 You will also receive more healthcare subsidies as compared to PRs, and have the right to vote for the country's government. As citizens, you will also receive exclusive parenthood incentives like four-month maternity leave for mothers, two-week paternity leave for fathers, baby bonuses, and even a S$3,000 support grant.
3.1 Who can apply to become Singapore Citizen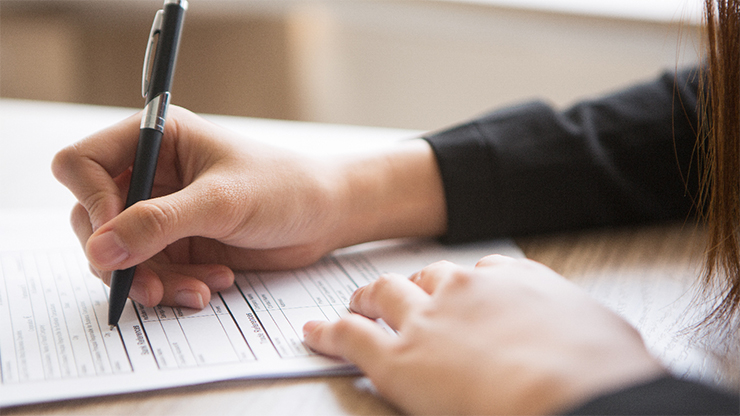 These are the specific requirements that you have to meet before you apply for citizenship in Singapore:
You have been a Singapore PR for at least two years and are 21 years of age or older. You can also apply with your spouse and unmarried children* below 21 years of age. 

You have been a PR and are married to a Singapore citizen for at least two years

You are below 21 years old, are unmarried with a parent who is a Singapore citizen

You are a PR studying in Singapore and have been residing in the country for more than three years

(of which, at least one year as a PR); and have passed at least one national exam like PSLE, GCE 'N'/'O'/'A' levels, or are in the Integrated Programme (IP).

You are a PR and an elderly parent of a Singapore citizen
*Only children born within a legal marriage or have been legally adopted are considered by the ICA.
Similar to PR applications, the ICA also looks at other factors like family ties to Singaporeans, qualifications, age, social and economic contributions, etc.
3.2 How do I apply to become Singapore Citizen
You can submit your Singapore citizenship application on your own through the ICA's online portal or seek the professional assistance of a Singapore immigration agency to guide you through your application process and improve your chances of approval. Here are the steps to take:
1. Fill up your application
It is ideal to gather all the important documents for your SG citizenship application before filling up the application online. As this process may be tedious and time-consuming for some, you can engage in the services of an immigration agency to assist your application.
2. Prepare the necessary documents
Obtain the information of basic documents and paperwork necessary for your citizenship application from ICA's website. Aside from documents included in the list, like your Passport, NRIC, Birth Certificate, etc. you should also prepare supplementary documents such as explanatory notes to boost your profile.
3.Upload the documents
Once you have completed the online forms, you are required to submit the rest of the documents. Ensure that all documents and information filled out are true and accurate before proceeding to pay the fees. Because of the more stringent requirements, many applicants choose to use an immigration agency in Singapore to increase their rate of success.
4. Wait for application outcome
Upon submission of your application, it takes about 6 to 12 months to receive the results. If your Singapore citizenship application is approved, a letter of approval will be mailed to your correspondence address. In the meantime, you can always visit ICA's online portal to check on the status of your application.
5. What comes next after approval?
Congratulations on obtaining your Singapore citizenship! But the journey doesn't end here. After getting your citizenship approved, you will need to undergo a three-part Singapore Citizenship Journey -The Singapore Experiential Tour, Community Sharing Session, and online e-journey. You are required to book slots for the first two events through a website stated in your letter of approval, whereas the e-journey is accessible anytime online.
Individuals above the age of 21 are required to renounce their foreign citizenship. As the requirements for renouncing citizenship vary for each country, thus it is best to check on your country's requirements before making the arrangements accordingly. Upon completion of your Singapore Citizenship Journey, you can visit the embassy in Singapore with your passport and necessary documents to be surrendered. Only after you have renounced your foreign citizenship, will you receive a letter from ICA to register your Singapore citizenship.
Bring along a photocopy of your letter of renunciation and a letter stating the surrender of your passport during your appointment. You will also register for your pink Singapore NRIC and passport before participating in an oath-taking ceremony to pledge your loyalty to Singapore.
Part IV: Conclusion
Do not be disheartened if you are facing rejection for your Singapore PR or citizenship application as you can appeal within six months. To improve your chances of having your appeal approved, you should get in touch with a Singapore immigration agency. The firm will provide an in-depth analysis of your application, strengthen your case, and give you advice on how you can make improvements in your daily life.
Don't give up on a chance to have your application approved, instead you should look for a professional consultant to help you increase your chances of making Singapore your home.
Singapore Professional Immigration Consultancy is a trusted immigration agency in Singapore, providing solutions to individuals who are looking for overseas relocation services or applying for a Singapore PR/Citizenship. Find out how we can help you here.