Taking the leap of faith to relocate to another country can be extremely daunting – think about the new cultures, languages, people and places you have to get used to. Alas, these are not all.
Apart from preparing yourself to assimilate into a country, you will also have to get all the important requirements such as visa and housing arrangements sorted as part of the immigration process to Singapore, some of it even before your arrival in your new country.
All of these only add to the stress, which is why many tend to prefer engaging an immigration agency in Singapore to get everything settled for them.
But before you do so, here is a quick guide to relocating to Singapore, so you get a better idea of what the process entails.
1. Visa requirements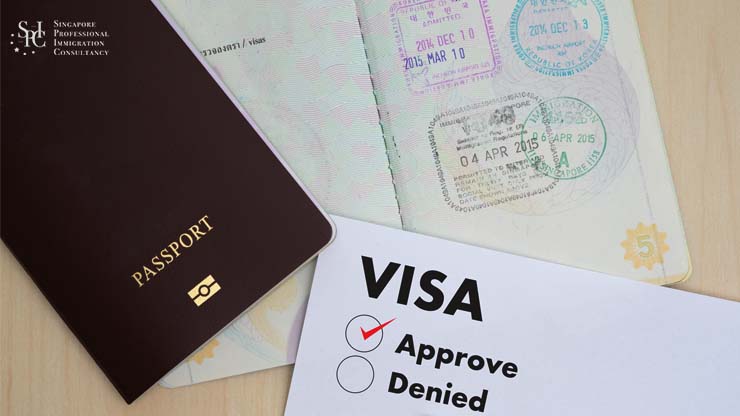 You may have already made up your mind about immigrating to Singapore, perhaps for reasons such as work commitments, educational needs, or to be with family. As such, the type of visa you will need to be able to stay in Singapore differs too:
Pass typeWho is it for?Employment Pass
Foreign executive, managers, and professionals
Has appropriate qualifications
Must earn a minimum of $4,500 a month
EntrePass
The company must have venture-backing or inventive technologies
Foreign entrepreneurs who want to establish and run a company in Singapore
Personalised Employment Pass (PEP)
Individuals who already have an EP, are high-earning, or are professionals from overseas
S Pass
The assessment criteria must be met
Must earn a minimum of $2,500 a month
Mid-level skilled staff
Work Permit
Foreign performers
Confinement nannies from Malaysia
Migrant workers who are in the domestic industry
Migrant workers who are semi-skilled
Training Employment Pass
Must earn a minimum of $3,000 a month
Foreign professionals attending practical training
Work Holiday Pass under Work Holiday Programme
Someone who want to holiday and work in Singapore for 6 months
Aged between 18 and 25
Graduates and Students
Work Holiday Pass under Work and Holiday Visa Programme
Someone who want to holiday and work in Singapore for 1 year
Aged between 18 and 30
Graduates and students from Australia
Training Work Permit
Individuals attending practical training for a maximum of 6 months
Foreign students or foreign trainees who are semi-skilled
Dependent's Pass
Children and/or spouses of S Pass or Employment Pass holders who are eligible
Long Term Visit Pass
Handicapped children, step-children, common-law spouses, or parents of S Pass or EP holders who are eligible
The table above shows some of the most common types of visas needed when relocating to Singapore, and all of them have varying requirements and documents. Hence, it is recommended to consult an immigration agency in Singapore to clarify any doubts and to understand more about the different visas.
It is important that you apply for a visa that suits your needs, as it can be tricky to deal with the restrictions of some visas. Look closely at the online Visa application form before completing it, as mistakes can delay the entire process. You can also consult with visa agents to establish the best Singapore visa for your needs. It is possible to obtain an e-Visa through the online process.
Countries Require a Valid Visa to allow entry into Singapore.
Yemen
China
Iraq
Uzbekistan
Pakistan
Iran
Ukraine
Nigeria
India
Turkmenistan
Morocco
Georgia
Tunisia
Moldova
Egypt
Tajikistan
Mali
Korea
Syria
Libya
Belarus
Sudan
Lebanon
Bangladesh
South Sudan
Kyrgyzstan
Azerbaijan
Somalia
Kosovo
Armenia
Saudi Arabia
Kazakhstan
Algeria
Russia
Jordan
Afghanistan
If you are from Ukraine, Turkmenistan, China, India, or Georgia and think you might be eligible for the Visa-Free Transit Facility.
Additionally, you will need a visa in the following circumstances:
If you have a travel permit that was issued by the Macao Special Administrative Region
An Identity Document that was issued by the Hong Kong Special Administrative Region
A temporary passport that was issued by the UAE (United Arab Emirates)
Someone in possession of a Palestinian Authority passport
If you have an Alien's passport, which is subject to assessment before entry into Singapore can be permitted
If you have a Refugee travel document which is also subject to assessment before entry into Singapore can be permitted
Singapore Visa Application Process
There are three different ways to apply for a visa for Singapore:
In-person at the Singapore High Commission. There are several of these high commission offices around the world. Research the one closest to you, and remember to make an appointment for visa applications.
In-person at an authorised visa applications centre. There are several of these around the world. Visit the Ministry of Manpower website and look for your nearest overseas mission. Once you have located a Singapore visa application centre near you, remember to book an appointment so that you can apply for a visa.
Online: However, you will need to arrange with your local contact in Singapore (A Singapore permanent resident or Singapore citizen who knows you). They can submit a Singapore visa application on your behalf through e-Services as long as they have a SingPass account. The visa fee will be payable by them (SGD 30,000).
Processing Time
Usually, your Singapore visa application should be processed within five working days. In some countries, this can be faster, but certain applications can take longer or be delayed.
Should your visa application be approved, you will receive an e-Visa that will show how many times you may enter Singapore, as well as the visa validity period. Some of this information will be sent via email.
Please note that the processing fee for a visa application is non-refundable. For the latest information on Singapore visas, visit the Singapore Immigration and Checkpoints Authority website. Furthermore, the visa is only a pre-entry permission to enter Singapore and is not the same as an Immigration Pass.
The kind of Visa that you need for tourism purposes and business purposes is different from what you will need for immigration. When you apply for a visa, be sure that you are applying for the correct one. This is important because a travellers visa holder will not be able to work in the country, and a student visa has very different restrictions connected to it than a travellers visa. It is essential to research these matters in detail before submission of your visa application.
Documents needed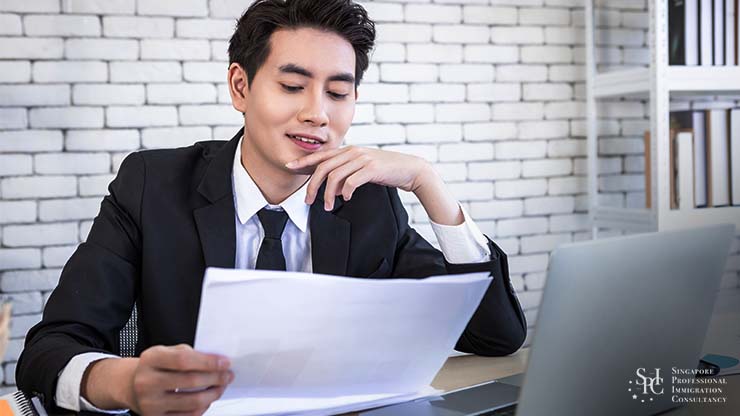 Regardless of which type of visa you decide to apply for, submitting the right documents is essential to improve your chances of securing a visa. Approval will likely not be granted if you submit something incomplete, illegible, or incorrect.
Documents such as educational qualifications and marriage certificates are typically required, and those that are not in English will have to be uploaded to the portal along with a translated version. Thus, you may want to consider engaging an immigration agency in Singapore to help you with accurate translations. Consulting with an agency will ensure you security and peace of mind. We can help with anything from customs regulations to deciding which scheme to apply for permanent resident status under. We understand government and Ministry regulations and security precautions in the country very well and can offer assistance even if you will just be a visitor to the country and do not mean to stay for a very long period.
Generally speaking, the following documents are required for a Singapore Visa application process:
Yellow Fever Vaccination: If you come from one of the countries that require Yellow Fever Vaccines, you need to have documents proving that you have received a vaccine at least six days before travelling to Singapore. The document is shown to the ICA officers at one of the entry points.
Credit card: Must be a MasterCard or VISA and be used to pay the processing fee for the Singapore Visa – it might be best to confirm specifics related to your country, it is possible that some places only accept cash, and you will need to know that before your arrival for the appointment.
Letter of Introduction: If you have a contact or partner in Singapore, then a letter is provided by your local contact and attached to your visa application. The letter should reflect personal information, how long you will be in Singapore, why you are going to visit Singapore and the relationship that exists between you and your contact.
Passport-sized photo of yourself: The picture cannot be more than three months old, it must have a plain white background, and you must have a neutral expression and be facing forward. Headgear is only allowed if work for religious reasons regularly and only if it does not obstruct your face.
A copy of your travel itinerary or booked airline ticket: This must be an A4 sized copy. The date of arrival in Singapore (your departure date from home) is important here.
A copy of the biodata page of your valid passport: This must also be an A4 sized copy.
Your travel documents/passport: These documents must be valid for a minimum of six months after the expiry date on your visa.
Completed application form for the Singapore visa: You will likely need to answer questions about your marital status, personal information, the reason for your visit to Singapore, the duration of your intended stay, and your residential address in your home country, where you will be staying in Singapore. These documents must be signed by yourself. The ICA will likely request that you submit these when you get to the Singapore entry port.
Remember that visitors to Singapore will require a different kind of visa than those immigrating to Singapore. The entry requirements are also slightly different.
*Note: The government of Singapore is extremely strict about drug laws and regulations. If you consume drugs elsewhere and land in Singapore under the influence, you can be arrested even if you no longer have any drugs on you. This is also the case for medications that the government does not allow (they may be allowed in other countries). So research medication and drug laws carefully before travelling. Also, research the duties of the Ministry of Foreign Affairs in case you get into any kind of trouble in Singapore. It is essential for travellers to know their rights but also their responsibilities within foreign jurisdictions.
Housing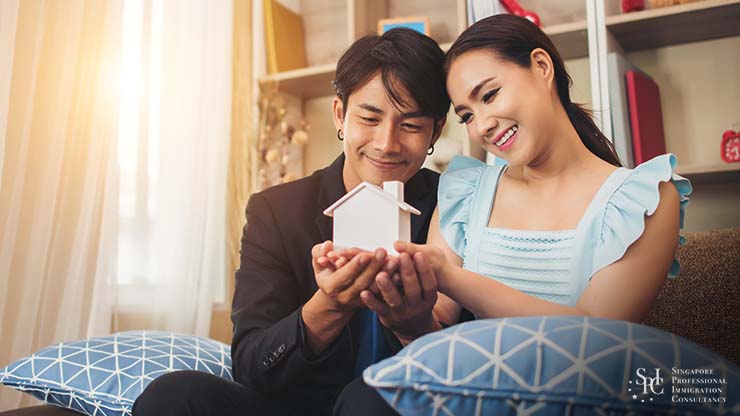 Housing arrangements are probably the next most important factor to consider when relocating to a new country as having a suitable roof over your head is not a want but a need.
If you are a migrant worker, domestic worker or confinement nanny – your employer will usually provide you with housing either in dormitories or their own homes. Certain companies may also provide housing when you relocate to Singapore for work.
But if housing is something you have to take care of on your own, you need to know what are properties you can and cannot purchase.
If you have secured a Singapore PR, you can buy resale HDB flats (with another Singapore PR or Singaporean), privatised Executive Condos, resale Executive Condos, strata-landed homes, private condos, and landed property in Sentosa Cove.
But if you are not a Singapore PR, you will only be able to purchase private condos, private Executive Condos, landed property in Sentosa Cove and landed properties (with permission from Singapore Land Authority).
The process of looking for a suitable home can be challenging, but an overseas relocation service in Singapore will be able to advise you and assist you in searching for your ideal home.
The Housing and Development Board is the main provider of residential properties in Singapore, including the so-called "HDB flat" to such an extent that there are even some "HDB towns". The public housing market in Singapore is quite exclusive, and you can only acquire an HDB flat with Singapore PR or citizenship, but you will be able to purchase public housing in the form of a freestanding house in a specific area in Singapore. The only way that you can buy an HDB flat is if it is a resale HDB flat. HDB towns in Singapore are great places to live and housing there is affordable, so if you can purchase a resale flat from Singaporean citizens in one of these areas then it is a great option to consider.
If you are still concerned about public housing in Singapore or you are not yet ready to buy a house, or other residential properties, then remember that you can always rent a flat or house in Singapore. This includes HDB properties. Singapore citizens are allowed to rent out their HDB properties or even to sublet, so there are many housing options available in Singapore.
Moving Services
Another great way to relieve the stress of the relocation process is to engage the services of professional international movers. This is appropriate whether you are making use of public housing or not. There are several well-respected companies that specialise in these services, and you can apply online for quotes on most of their sites.
They can assist with safe and secure relocation to most countries in the world and will enable you to better understand things like customs regulations (as they have a lot of experience with such). They will also know how to get approval for special items and might even include such approval procedures in their packages. Professional movers can make your arrival in another country much smoother, and many permanent travellers engage in such agreements regularly.
Consult Singapore Professional Immigration Consultancy should you have any enquiries regarding relocating to Singapore or simply want to find out more about becoming a Singapore PR. Our consultants will guide you through the entire process, including assisting you in preparing all required documents and advising you on any additional documents that may enhance your application. SPIC has years of experience with many aspects of Singapore, including intimate knowledge of foreign affairs ministry issues, permanent resident applications (including identification of the best scheme for individual needs), public housing applications with the Development Board, etc.